What is Apple Business Manager? Here's everything to know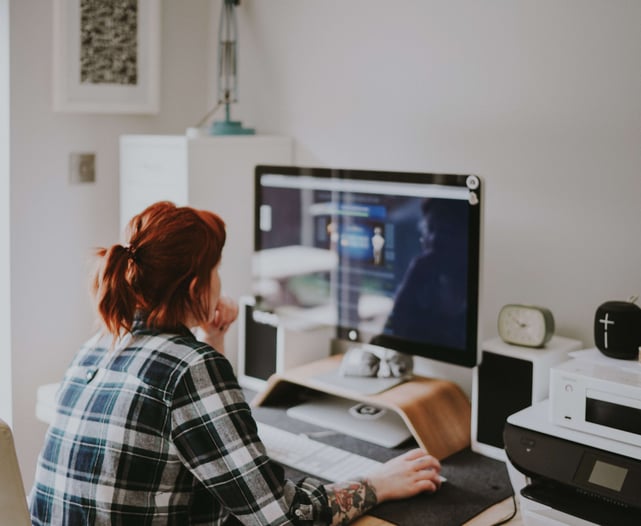 Any business that uses the Apple ecosystem for their devices requires an effective mobile device management (MDM) system that will allow them to enroll new devices and purchase applications. Often, these new enrolments and app purchases must be done on a large scale. A company that has mobile devices operating within the Apple ecosystem needs to ensure that this can be done with maximum security and efficiency. This requires an MDM system that is compatible with Apple Business Manager.
Apple Business Manager (ABM) is a program designed to facilitate the deployment of devices using iOS/iPadOS, macOS and tvOS within a corporate environment. ABM allows for automated device and app deployment and app purchasing. It is designed to make day-to-day procedures regarding device management duties simpler, faster and more secure.
However, it should be noted that ABM is not a replacement for an MDM system. Rather, it must work in conjunction with an MDM system in order for all its features to be used.
Coming to grips with the intricacies of how Apple Business Manager and MDM systems work can be confusing at first. In this article, we will provide you with a brief overview of the functionalities and benefits of ABM and how you can utilize this tool in conjunction with MDM to fully optimize your device management procedures.
What is Apple Business Manager?
It is simply a web-based tool that allows IT departments and business owners to automate the deployment of corporate-owned and personal Apple devices and their enrollment in an effective mobile device management (MDM) system.
Apple Business Manager also allows for the bulk purchase of applications from the Apple App store. In conjunction with an MDM system, ABM enhances device configuration, app deployment, and policy compliance enforcement, and provides a range of security measures for corporate-owned and personal Apple devices.
Business Manager was released in May of 2018 and was designed to consolidate and replace the Apple Volume Purchase Program (VPP) and the Apple Automated Enrolment Program (ADE) also known as the Apple Device Enrolment Program DEP. These programs were no longer available as of the 1st of December 2019. To use any of the functions that were contained in these programs, a company or organization must now use ABM.
Apple Business Manager can be used with:
iPhones
iPads iPod touch devices
Apple TV devices
Mac devices
What can I do with Apple Business Manager?
One of the most common reasons that businesses use Apple Business Manager is that it recognises all devices used for corporate purposes as being owned by the organization in question. This provides IT administrators with more control over security protocols, improves enforcement of company policies, and eliminates the risk of employees locking their devices by using incorrect or personal Apple identification numbers.
Apple Business Manager enables IT departments to remotely configure devices for use in an MDM system without ever having to physically touch the devices. ABM features a totally automated device enrolment process. This ensures that all Apple devices can be deployed within a corporate environment quickly and efficiently.
The security of both devices and data is a major concern for many business organizations. By using Apple Business Manager in conjunction with an MDM system, they can take full control of the security of mobile devices and ensure corporate and personal data is kept separate and secure. If a device is lost or stolen, ABM together with an MDM system allows IT admins to remotely wipe or lock these devices, guarding against any data loss or corporate security breaches.
ABM allows for the enhanced monitoring of devices and employees via a range of specialized device management controls, many of which are not available for use by other deployment systems. These features can be easily integrated with non-removable MDM systems that can manage apps, secure corporate data, and secure all types of devices used for corporate purposes. This includes both BYOD (Bring Your Own Device) and COPE (Corporate Owned Personally Enabled) devices.
With Apple Business Manager, it is easy and fast for a company to volume purchase apps. No matter what type of Apple device staff use, IT admins can purchase and deploy apps that are immediately ready to be used for corporate purposes. This includes any apps that have been developed in-house. Applications can be transferred between different locations and licenses can be shared.
ABM provides a complete purchase history that includes all the current licenses of apps used within the MDM system.
All distributed content can be easily tracked by IT admins. Additionally, apps and content can be individually assigned to specific users and the usage of these apps monitored and controlled. Any apps that have not been authorized, are no longer under license, or are no longer required by the business can be wiped or reassigned remotely.
How much does Apple Business Manager cost?
A huge advantage of the Apple Business Manager is its price. ABM is completely free for use upon registration. This makes it an attractive option for businesses and is a major reason why many companies choose to use Apple devices for COPE or CYOD system deployments.
However, it should be noted that for it to be truly effective and reach its full security potential, Apple Business Manager must be used in conjunction with an MDM solution. It should also be noted that any reputable MDM system will involve a financial outlay of some kind.
However, the negatives of this initial start-up cost and the associated ongoing costs, are greatly made up for by the continued security benefits of MDM systems. When used in conjunction with Apple Business manager, an MDM system can :
- deliver much-improved device security
- enhance data protection
- ensure the separation of personal and corporate data
- provide better monitoring capabilities
- enhance employee productivity.
How to add a device to Apple Business Manager
Enrolment in Apple Business Manager is a fast and easy process. Any business or organization can enroll, as long as they agree to Apple's service terms and conditions. There are also other device pre-requisites for enrolment, including the stipulation that ABM must be available in the country of origin and that it must be installed on an approved device. For an extensive list of enrolment pre-requisites, we suggest reading the ABM service terms and conditions in full.
If an organization had devices that previously used Apple's defunct deployment programs (VPP, ADE, and DEP), then it can use the tokens associated with these applications to enroll in ABM until the tokens expire.
Once you have made sure you meet all pre-requisites and have accepted the terms and conditions, you can enroll a device into Apple Business Manager manually by completing an online enrolment process. A business must provide certain organizational information such as its name, address, phone number, and a valid professional email address.
Private consumer email addresses issued by providers such as Gmail or Yahoo are not acceptable for enrollment. The account that is linked to the email used for registration becomes the primary administrator for ABM. It cannot be associated with an existing Apple ID or any of Apple's other services.
As well as these details, a company must also provide a valid D-U-N-S number. This is a unique nine-digit number issued by Dun & Bradstreet which is used as a corporate identifier. Apple uses this number to cross-check the corporate information you have provided. If there are any issues found, then the application to enroll in Apple Business Manager will be denied until the Dun & Bradstreet information is corrected or updated.
Once the application to enroll has been accepted, a confirmation email will be sent to the provided verification email, address asking for the administrator to be confirmed or for an administrator to be delegated. Then, the admin can download Apple Business Manager tokens and begin to add any reseller devices or manually add existing Apple devices to their ABM account.
The steps to add a smartphone or an iPad to Apple Business Manager are provided via a series of onscreen instructions. These instructions are available via the Apple Configurator and can be applied to any Apple or Mac product, even if it was not purchased from any authorized reseller, directly from Apple or from an authorized third-party business. Once a device has been placed into a group folder with the name 'Devices Added by Apple Configurator' it can then be added to an MDM server.
The benefits of Apple Device Management for business
Any business that uses mobile devices within the Apple ecosystem should take advantage of the many benefits of using Apple Business Manager. ABM provides enhanced control of devices for businesses and allows IT admins to utilize a range of MDM functionalities to improve security and activate monitoring capabilities.
Apple Business Manager works using the unique International Mobile Equipment Identity number (IMEI) and the serial number of a device. So it allows for fast device activation with immediate out-of-the-box enrolment capability. Any existing devices that were previously registered with Apple's older deployment programs (VPP, ADE, and DEP) can be quickly upgraded to ABM. All devices can be enrolled and configured remotely by IT admins.
Applications and content can be purchased in bulk and distributed by IT admins efficiently and quickly. When required, apps can be revoked, deleted, or reassigned remotely.
Corporate devices and data can be secured by incorporating Apple Business Manager with a reliable MDM system. This will allow IT admins to roll out the following features across all devices used for corporate purposes, be they COPE or BYOD:
Encryption for secure communication
Secure containers to separate personal and corporate data
Remote disk wiping for lost or stolen devices
Data usage restrictions
App whitelisting and blacklisting capabilities
Backup and restore functions
Limited access to corporate and personal data
Password protection for all corporate sections
Device tracking for lost or stolen devices
Disk encryption
Geofencing
Remote locking
Remote messaging
Where to find an MDM solution for Apple Business Manager
If your business wants to make the most of the security features of Apple Business Manager, then you will need to use it in conjunction with an MDM system designed to meet the unique requirements of your company.
Appaloosa MDM systems for ABM provide a wide range of functionalities and benefits for companies that use mobile devices within the Apple ecosystem. Whether you need to deploy one app to a few users or manage thousands of devices, Appaloosa can provide you with MDM solutions that are fully customized to meet your needs.
Appaloosa MDM systems can be fully integrated with Apple Business Manager and work seamlessly together to provide IT admins with unrivaled control over all corporate devices. You can quickly and easily sync apps from ABM into your Appaloosa MDM solution. Appaloosa provides IT admins with the ability to easily and effectively manage all users with ABM access. All your Apple Business Manager apps and any other apps you use will be automatically imported to your administration console.
You can enjoy instant app installation with users being able to download apps directly from the private section of Apple's App Store without the need for an iOS profile or additional configuration.
Appaloosa fully automates the process of using redemption codes via ABM. Our automated redemption code management system automatically tracks every code/user association.
App deployment with Appaloosa MDM systems and Apple Business Manager is fast and provides you with measurable data to manage rollouts and view feedback from users. Appaloosa MDM systems provide secure single sign-on solutions and exceptional device management capabilities. You can even use your Appaloosa MDM system to manage Android devices!
Contact the Appaloosa team today to learn more about how we can provide you with Apple device management for business solutions.