Siri Shortcuts : Apple announces new features to boost your productivity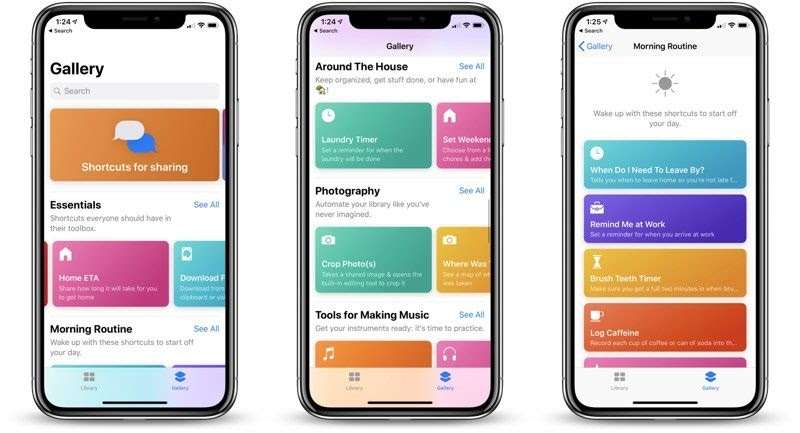 If SiriKit was one of Apple's first move towards automation by giving some apps access to Siri's features, Apple just made a much bigger move by announcing Siri Shortcuts during the 2018 WWDC that happened in June
(full announcement video here).
As of August 2018, Siri Shortcuts is in beta access, which can be requested through the Developer Center : Apple said that Siri Shortcuts should be released alongside iOS 12 in Fall 2018.
Simply put, Siri Shortcuts lets user create macros (or workflows) connected to Siri commands : Apple wants users to create their own automated routines that will be invoked using Siri's vocal commands.
Besides the Siri integration, Apple also plans to release a dedicated automation app called "Shortcuts" based on the company it recently purchased in 2017 : Workflow.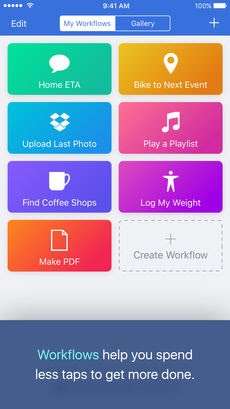 Source : Apple App Store / Workflow
While rumored to be replaced by Shortcuts, Workflow is a free app that lets you create powerful and personalized workflows based on a drag-and-drop system which includes more than 200 actions derived from various apps such as Maps, Safari, Calendar, Dropbox and so on.
Siri now integrates Shortcuts : what does it change ?
While it's no surprise that Siri will integrate with Shortcuts since its primary goal is to fulfil a personal assistant position, it is a massive game changer thanks to its third-party apps integration and endless automation possibilities.
To put it simply, Siri-powered Shortcuts will let users activate personal workflows based on vocal commands : a wonderful news for anyone that has ever dreamt of an intelligent virtual assistant.
Based on your personal preferences, Siri will also make more relevant and proactive suggestions in Spotlight or directly on your lock screen : it will suggest actions rather than apps.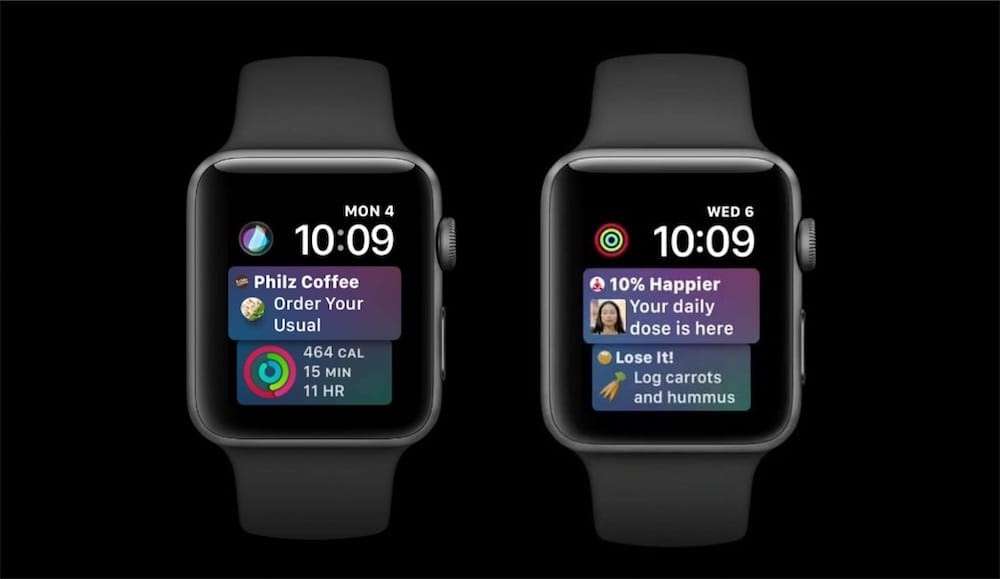 Source : Apple
Your Apple Watch could soon be used to order a coffee from your usual spot based on your location data.
Working closely with third-party and iOS apps, Siri will make proactive suggestions based on your schedule, current location, events and even personals habits; which means that your favourite pizza could soon appear as a Siri suggestion based on your previous orders.
Wait there's also a dedicated app : Shortcuts is coming in Fall 2018
As said earlier in this article, Apple will soon release a personal automation app called Shortcuts that should be very similar to Workflow (the automation app that Apple bought back in 2017).
Similarly to what Workflow does now, Shortcuts will allow iOS users to create powerful and automated "shortcuts" based on their habits and personal preferences.
As of Fall 2018, Shortcuts will rely on :
Third-party apps
First-party apps
Apple services
Apple settings
Being integrated with third-party apps, there are countless possibilities to what you can create using Shortcuts.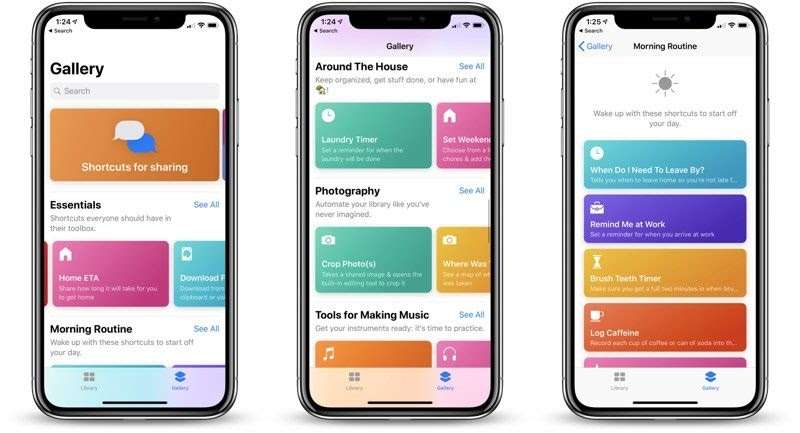 Here is what the Shortcuts gallery should look like.
Source : MacRumors
Because a couple of examples are worth a thousand words, here are 3 examples of what you can do with Shortcuts :
3 Shortcuts examples made crystal-clear :
"I'm going home" shortcut
"I lost my keys" shortcut
" I need a coffee" shortcut
This example has been used during the 2018 WWDC.
You create a shortcuts using a recorded message, your current location and your ETA.
From then, the idea is that your recorded message (let's say "i'm going home") will trigger a series of action based on what you've decided on; which could be :
Send Caroline "I'm heading home"
Launch Maps and calculate ETA
Set the thermostat at a lower temperature using Nest
Turn on the lights at home
For this one to work, you'll need a tracking app such as Tile.
Basically, you'll record a "I lost my keys" trigger phrase that will launch Tile and send you a programed message with the exact location of your keys.
Your iPhone knows that you're the kind of person who constantly orders the same drink each morning.
Based on your personal habits, you could create a Siri-enabled command that will trigger a shortcut designed to send your local barista a routine message with your daily morning order.
How to create your own Shortcuts 101 :
Although Shortcuts won't be used by everyone, it's nice to see that Apple kept on Workflow's promise to deliver a user-friendly interface that will have even novice users try personal automation.
Here are two step-by-step guides to create your own Siri Shortcuts :
How to create a custom Siri Shortcut :
Start Workflow or Shortcuts (beta restricted)
Create new Workflow/Shortcut
Drag and drop actions based on the desired outcome
Tap Done
Source : MacRumors
As in Workflow, Shortcuts will let you drag and drop pre-selected actions so that you'll never have to code.
How to create a trigger phrase for your Shortcuts (requires Beta Access) :
Go to Settings, then Siri & Search
Select one of your Workflow
Record your trigger phrase
Trigger your Shortcut by saying, "Hey Siri, [your trigger phrase]"
Once you'll be familiar with the interface, here's what it should look like according to Apple Insider.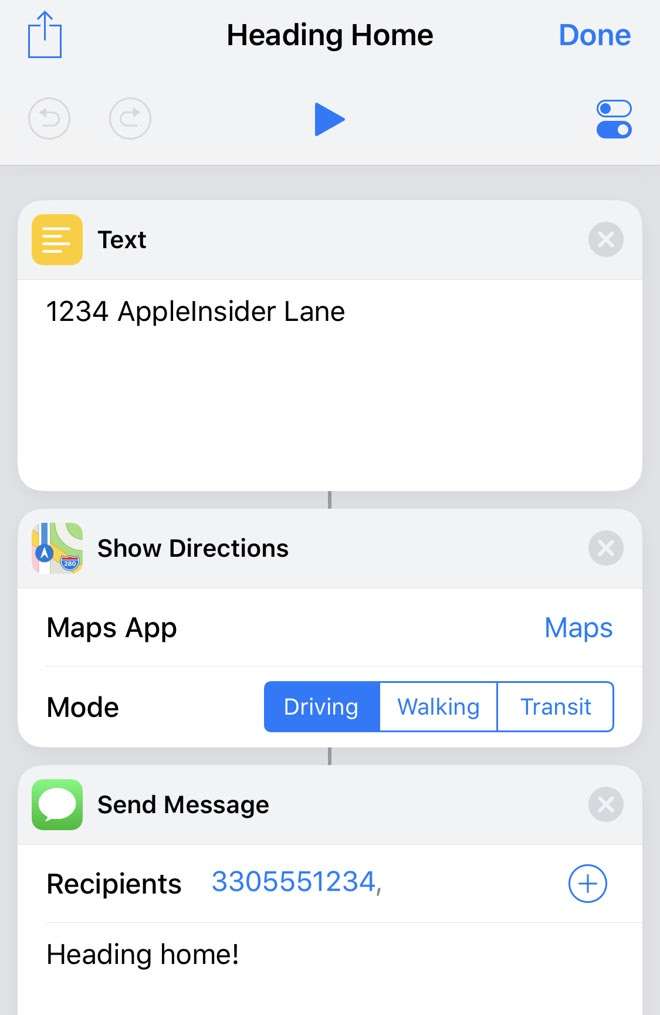 Source : Apple Insider
As of now, Shortcuts isn't available to anyone since it requires a beta access from the Apple Developer Center.
However, Apple announced that third-party apps integration will be available once Shortcuts is released alongside iOS 12 in Fall 2018 : automation possibilities will be endless at this point.
By Paul Nguyen, Appaloosa Contributor
Did you like this article ? Discover our news and articles related to iOS and Android new features on our blog.
Are you interested in implementing business apps for you company ?
Discover our solutions to deploy enterprise mobile apps and maximise your ROI with Appaloosa.