Everything You Need to Know About Apple Business Chat (and what to expect from it)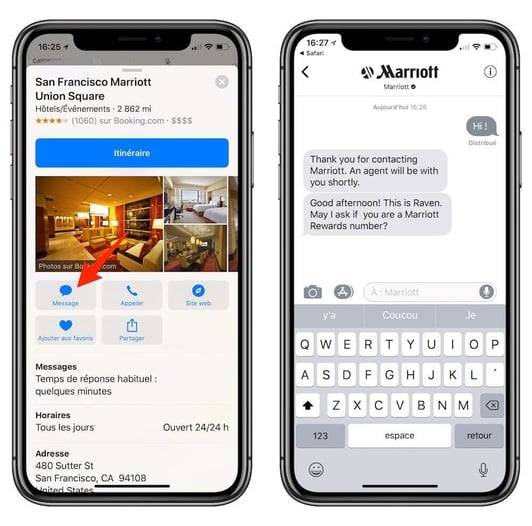 Quietly released alongside iOS 11.3 in March 2018, Apple Business Chat is a new built-in feature added to the native iOS Messages app.
Being restricted to a handful of companies for now, the new feature hasn't been really deployed in most parts of the world – it's mostly restricted to US consumers for now.
Business Chat is a real game-changer for the native iOS Messages app : it gives companies a genuinely direct communication channel to serve their customers.
For now, Apple Business Chat allows users to :
Benefit from a personalized customer service via Messages
Order and book services or products
Pay via Apple Pay directly in Messages
Get help from a virtual assistant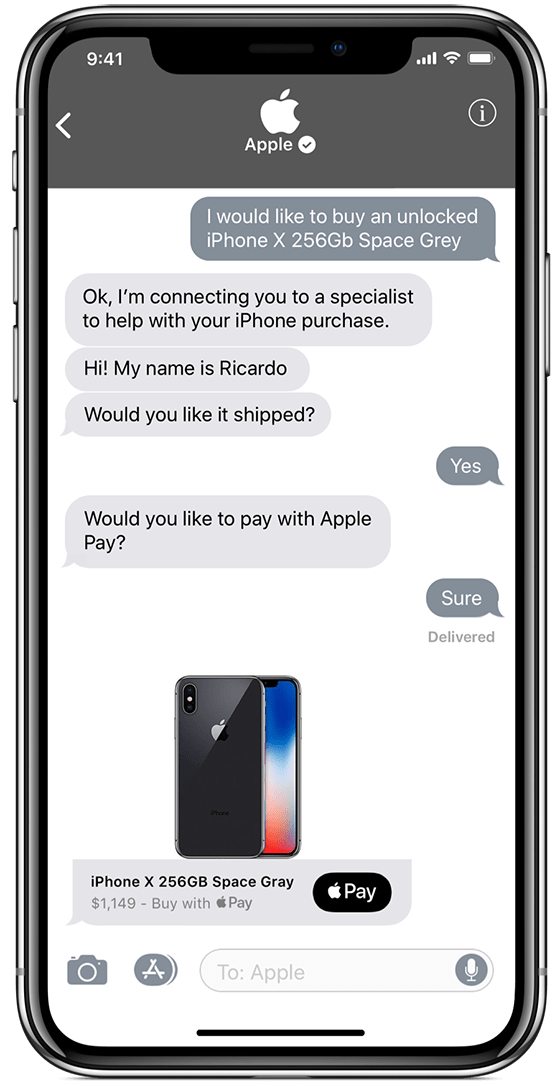 Source : Apple
A new feature that's restricted to a handful of companies (for now…)
Since its release, a dozen companies (mostly American or international) announced that they would join Apple Business Chat in an attempt to offer their clients a new kind of customer service as well as Apple Pay payments via Messages.
Here's the full list of companies that use Apple Business Chat services as of August 2018 :
(Check out Apple's website for updates).
Apple
Aramark
Discover
Dish
Four Seasons
Harry & David
Hilton
The Home Depot
Lowe's
Marriott
NewEgg
Ameritrade
T Mobile
Wells Fargo
1800 flowers
Apple Business Chat : how does it work ?
Now available on the whole Apple product range, Apple Business Chat allows users to chat with company representatives in the Messages app opened from Siri, Safari or Maps.
Good to know : companies that own an iOS app can add a Business Chat button.
If your company is looking to integrate Business Chat, just know that upcoming Apple Business Chat partners can register on Business Chat with this link.
On that matter, Apple mentions that companies wishing to subscribe to Business Chat will need to login via one of these solutions :
LivePerson
Salesforce
Nuance
Genesys
InTheChat
Zendesk
Quiq
Cisco
Kipsu
Lithium
eGain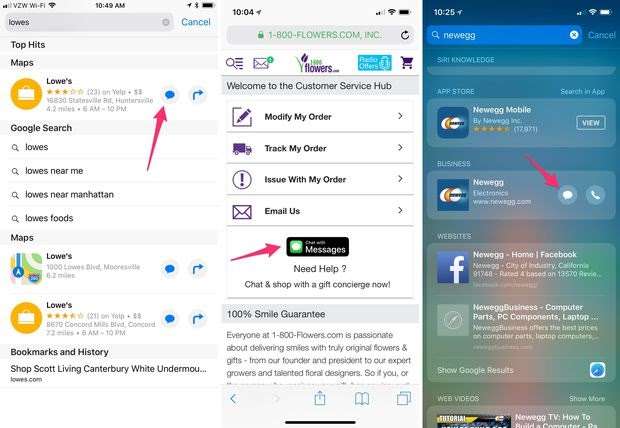 Source : Jason Cipriani / CNET
iOS users can now click the "Messages" button from Siri, Maps and Safari to initiate a new conversation with a company representative.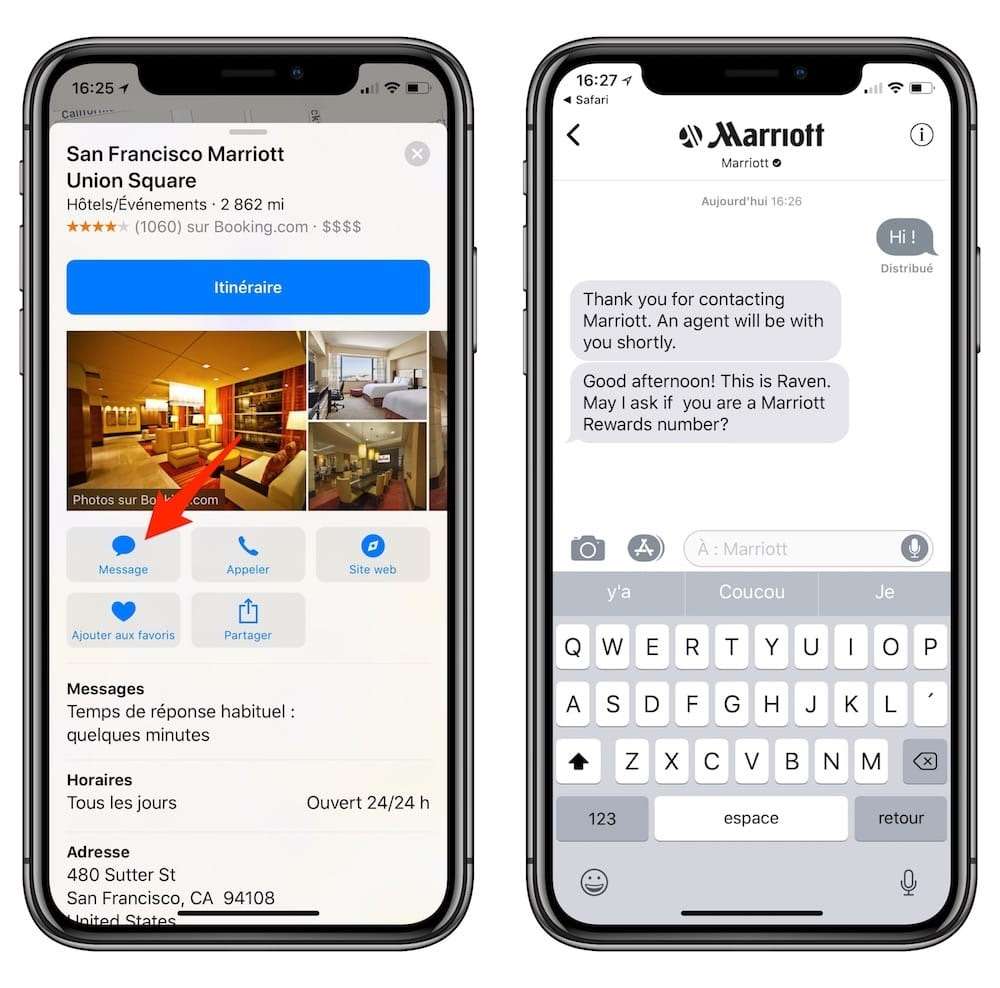 Source : IGen
Once initiated, Business Chat conversations allow users to :
Ask for information regarding a product or service
Buy or book a product, service or appointment
Get help from a company representative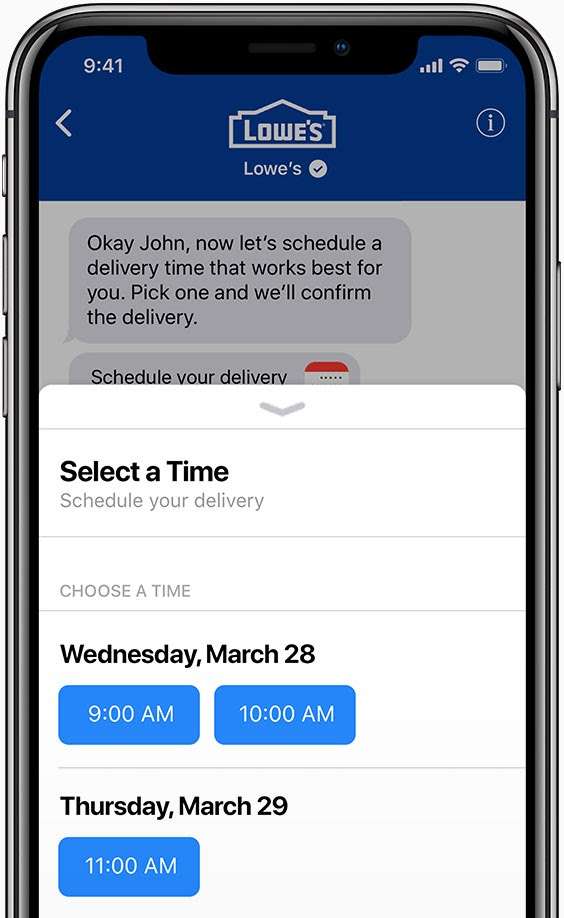 Appointments are amongst the new available features in Business Chat
Source : Apple
As of now, we see that partner companies don't all offer the same services via Business Chat : some still don't accept Apple Pay payment or plan to add it later on.
How to activate Business Chat in 2 easy steps :
Be sure to have the latest iOS update
Check "iMessage" in your Messages settings.
Apple follows in WhatsApp & Messenger's footsteps.
The last five years have seen the massive replacement of SMS by rich communication services (RCS) such as WhatsApp and Messenger (both owned by Facebook).
These two solutions now total more than 2 billion users and allow to easily share "rich content" in encrypted conversations (hyperlinks, voice message, photos, videos…).
In Asia and North America, customer services that rely on WhatsApp and WeChat (800 million users) are now hugely popular : they offer unparalleled levels of familiarly as well as countless personalized solutions compared to usual communication services (via phone, mail or SMS).
Source : TechNode
Besides what we mentioned above, online messaging also allows for differed conversations between companies and customers in a era where 80% of American adults use a messaging app on a daily basis.
WhatsApp for Business vs Amazon Anytime vs Google Chat : the Business Messaging war has begun.
Apple has now joined a business war between several tech giants that will fight for the business chat leadership and the future of customer services.
Nonetheless, let's not forget that Apple is inevitably disadvantaged by the fact that Business Chat cannot be used on Android devices.
This matter is a big hurdle to enter the Asian market where Android rules with an iron hand.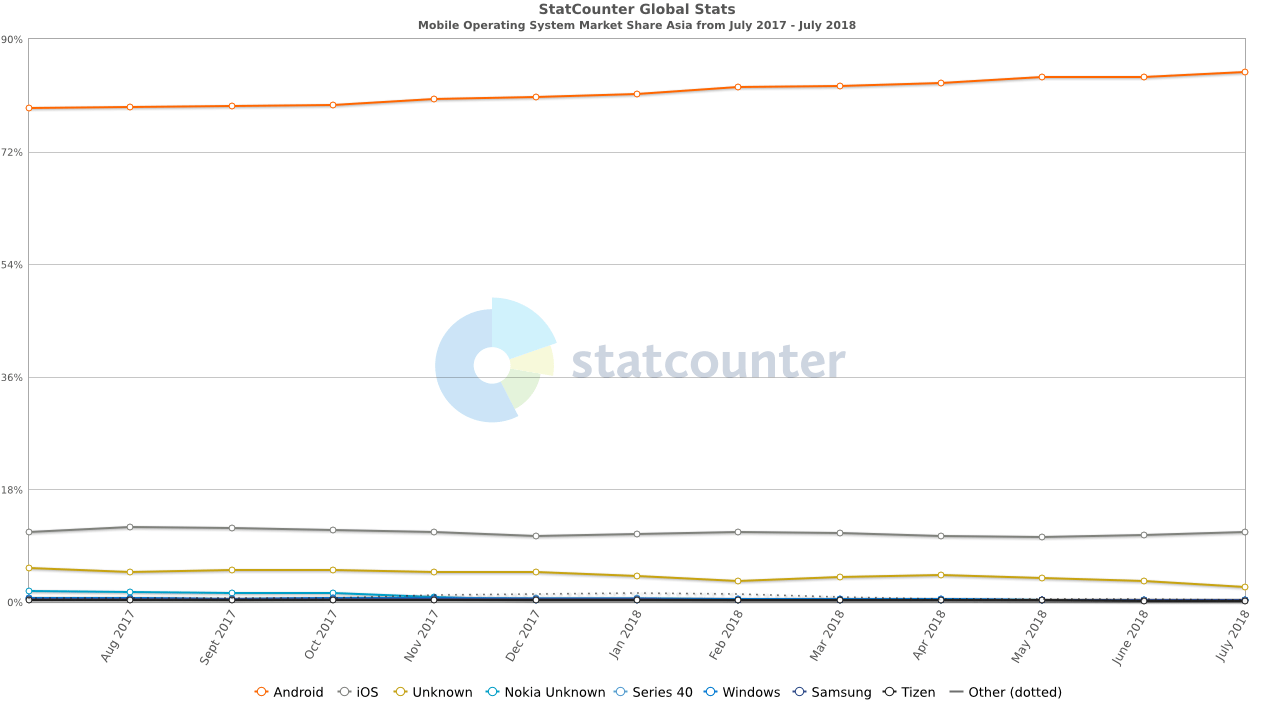 Mobile OS market shares in Asia : Android is a clear market leader with an astonishing 85% market share.
Source : StatCounter
Despite Hangouts' various clones failure (Wave, Allo, Duo…) Google keeps on working on messaging solutions and carry the last hopes for the RCS standard (Rich Communication Services) that is supposed to replace SMS with the "Google Chat" project.
With this new "Chat" project, Google now hopes to set up new messaging standards for Android and thus compete with Apple and other competitors for new customer service solutions.
Besides Google, we also know that Amazon also works on a new messaging app that should be available as a cross-platform solution (smartphones, tablets and computers) on all mobile OS.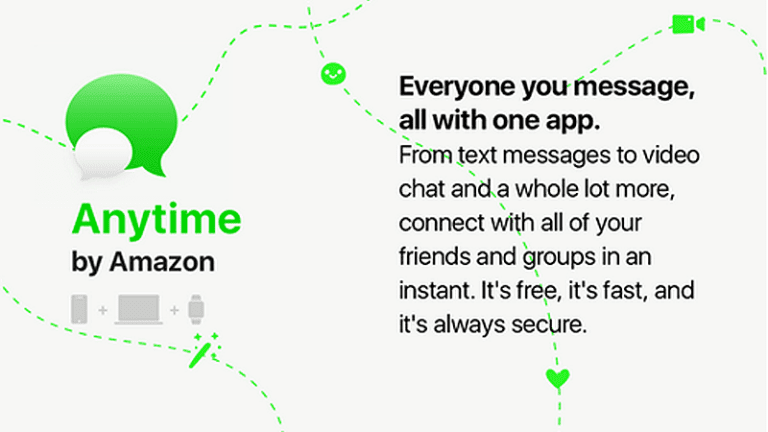 Amazon Anytime
With this "Anytime" project, Amazon also seeks to use the elements that made other messaging solutions successful : users will unsurprisingly find popular features found in Messenger, WhatsApp or SnapChat such as group and video calls, video sharing, GIFs, filters…
Breaking through the messaging market is a massive challenge for Amazon : the company plans to implement its Alexa system and spread its use amongst countless users while promoting its traditional ecommerce and streaming offer.
By Paul Nguyen, Appaloosa Contributor
Did you like this article ? Discover our news and articles related to iOS and Android new features on our blog.
Are you interested in implementing business apps for you company ?
Discover our solutions to deploy enterprise mobile apps and maximise your ROI with Appaloosa.